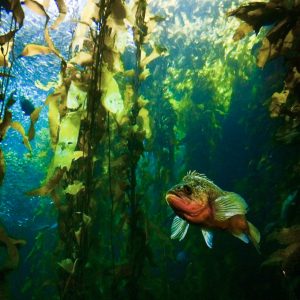 On today's episode, I'm tackling K is for Kelp and King Crab.
Listen here or download on iTunes or Google Play.
(And don't forget to subscribe!)
---
In the first half of the program, K is for Kelp, learn cool facts and uses for this abundant, fast-growing plant. Like what types of seaweed to eat.
What types of seaweed can you eat? Find out within the first five minutes. Then listen up for an easy, delicious, and nutritious recipe. Edamame Hijiki Salad can be made up to two days ahead.
And I offer a cookbook review on Ocean Greens by Lisette Kreischer and Marcel Schuttelaar, the go-to book for all things seaweed, cooking, and buying.
In the K is for King Crab part of the program, I dish all things Alaskan King Crab. As in when you're in Alaska—where to go, what not to do when your stomach is grumbling, it's raining, and you have limited time. Appetite required.
Want to read instead of listening?
Here's the full transcript of K is for Kelp and King Crab.
Thanks for listening and don't forget to subscribe on iTunes,
M
---
Show Notes