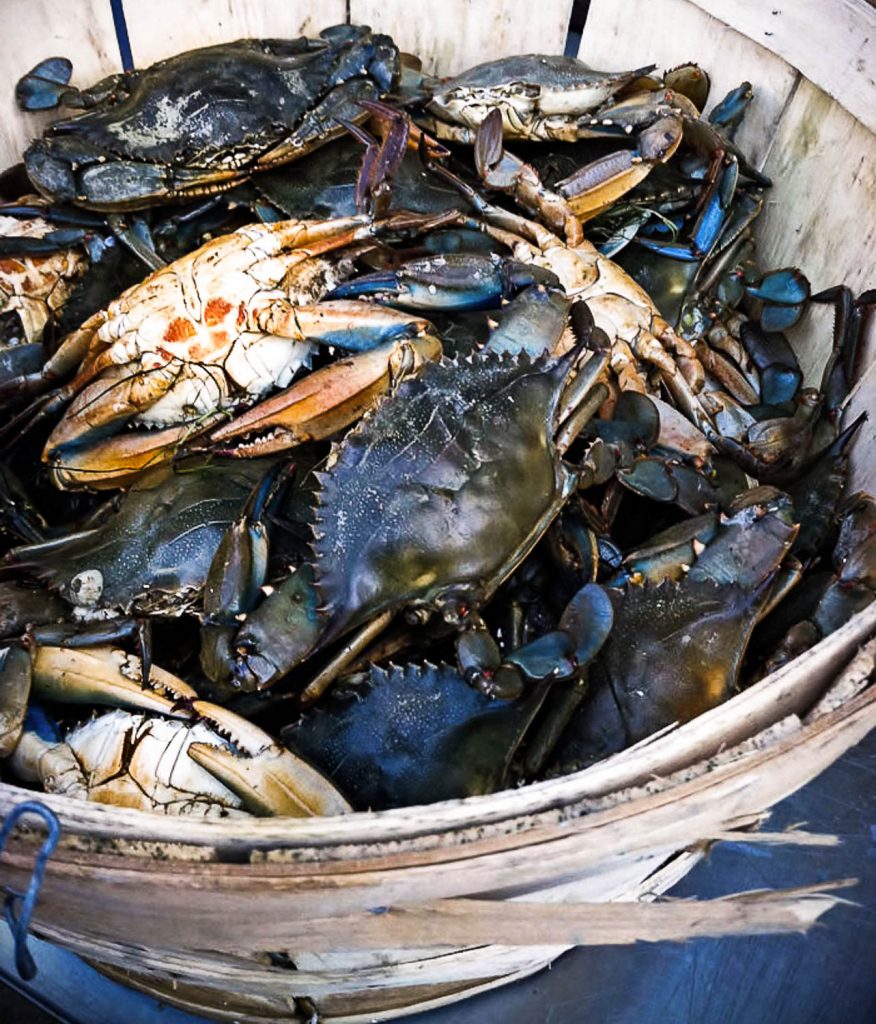 Listen to B is for Barramundi and Blue Crab Meat here or download on iTunes or Google Play. (And please subscribe!)
But first, a couple of quick thoughts.
You know this podcasting thing is new to me, so if I miss something, make a mistake, or say something you don't understand, please let me know! You can find me on social media or shoot me an email. Here's my contact info.
Hey, you know what's cool?
My friend Charity messaged me that her eight-year-old daughter wanted to share her fave salmon recipe with—wait—the salmon lady!
Poached Salmon with Avocado Aioli (in the microwave)
Here's how she does it.
For the Avocado Aioli
Add 2 cloves garlic, 2 tbs white wine vinegar or another acid, 1 egg yolk, 1 tsp salt, 1 tsp mustard in a blender on the smoothie button or in a food processor on high. While the machine is running, slowly add up to 3/4 cup of olive oil until it comes together. Mash an avocado and add to the blender until the whole thing is smooth and creamy.
For the Salmon
Arrange the salmon in a shallow microwave safe dish. Season with salt and pepper, juice from half a lemon, a little olive oil and then add water to three-quarters of the way up the side of the fish. Microwave for two to three minutes until cooked thru.
Plate and drizzle the Avocado Aioli over the fish. Serve immediately with a green salad for a quick easy delicious balanced meal.
Do you have a favorite seafood recipe you'd like to share? Send me your favorite seafood recipes so I can share with my listeners!
And thanks, Charity!
On to the fish!
---
Barramundi
Of the over thirty thousand seafood species to choose from, why did I choose Barramundi?
First, barramundi is a terrific tasting fish. It's sweet and slightly buttery, but clean. Mm-mm. It's also high in protein and Omega 3s, and low in fat. It's suitable for any method of preparation—on the grill, stovetop, and oven.
You might even be familiar with barramundi. It's on restaurant menus around the globe and available in grocery markets too.
Barramundi is both wild and farm raised. Barramundi in general is a large and important commercial wild fishery. Barramundi is farmed raised in numerous countries with great success in ocean pens and land-based recirculating systems.
That is important.
You see, I believe that aquaculture, or farm raising fish, when done right, is one of the methods we can use to successfully feed our growing global population and help take the pressure off wild species.
I first became familiar with barramundi around 2007 or 2008, I can't recall exactly. I was selling fish at the wholesale level in Florida. I didn't sell much Barramundi because most Chefs wanted white fish that consumers were familiar with—grouper, snapper, cobia, wahoo, tilapia.
Then in 2015, at The Sustainable Seafood Blog Con in New Orleans, I met Josh Goldman, the CEO and co-founder of Australis Aquaculture, the company that farm raises barramundi. Josh and his wife invited me to sit with them for breakfast since I was sitting by myself like a wall flower. You know how conferences are when you don't know anybody? I don't know about you, but that situation takes anxiety to an epic level for me.
Anyway, over coffee, I discovered that Josh was the Josh giving the opening presentation at the conference that morning. So not only did I make a great connection, I had a front row seat to his presentation—which was all about farm raising sustainable sea bass, also known as, yep you guessed, barramundi.
The reason I'm talking about this particular product?
Because I have a personal connection. And that's how I roll.
I like to know where my fish comes from and who is catching or raising it.
But also because I know that barramundi is good for you and the oceans. My favorite sustainable seafood resource, Seafood Watch, gives all seabass, white, black and European, a green and yellow rating with the except of one species—black sea bass caught in the US Northern Mid-Atlantic with an otter trawl. Fisheries that are managed, like the Mid-Atlantic black sea bass, have annual catch quotas. Based on the previous year's landings and discards, also known as bycatch, another great B word, these quotas are sometimes revised and adjusted mid-year to help maintain healthy fish populations.
One of the reasons Seafood Watch rates this species red, or avoid is because of the fishing method and gear—an otter trawl.
Think of a large cone-shaped net that is dragged across the bottom of the ocean. In uneven surfaces, it can dislodge corals and seaweed, rocks and sand, disturbing precious marine life that relies on this habitat. More research needs to be done to determine the long-term effects of this type of fishing.
So besides that one exception, what's not to like about this fish?
In the US, when you're shopping for barramundi, check Australis Barramundi's website for store locations. Then at the market head to the freezer section in the seafood department. Australis Barramundi is packaged in a black pouch with yellow lettering. And if you can't find it in your market, ask the manager at the store to bring it in for you.
Now here's a quick side note about shopping for barramundi/seabass and ordering it in a restaurant. There is a difference between black, white and European seabass and Chilean seabass. Chilean seabass is it not actually a bass, but rather a fish from the cod family, previously called Patagonian or Antarctic Toothfish. Super unappetizing, right? So why it was called seabass to confuse, is not something I have the answer for. Just be aware, okay?
I know this can be confusing, but that's why you're listening in!
Remember, the basics of sustainable seafood are about three things (well there are more but these are the basics):
What the species is
How it is caught, or in the case of farmed fish, how it is raised
Where it was caught, or raised
Alright, we know what barramundi is, where to find it at the market, and what to avoid let's cook some fish.
As with most fish recipes, less is better. If you're familiar with cooking grouper or striped bass, barramundi is similar. It's flakey, with a toothsome feel. To complement that mild yet buttery flavor, think Honey-Sesame Vinaigrette, this sweet and nutty combo with a hint of heat and touch of acid is easy to whip up. To save time, you can make ahead a few days. Cover and refrigerate. Remember to bring it up to room temperature before shaking or whisking again.
Honey-Sesame Barramundi
Ingredients
1 tablespoon white sesame seeds
2 tablespoons wildflower honey, or whatever your local bee farmer has
1 tablespoon low sodium soy sauce
Dash red pepper flakes
Dash kosher salt
Dash ground black pepper
Dash rice wine vinegar
1 tablespoon olive oil
2 green onions, sliced or chopped
Soba noodles
one tablespoon canola oil
kosher salt
ground black pepper
2 (6-8) ounce portions Barramundi
Directions
Toast the sesame seeds in a small skillet over medium heat about four to five minutes or until they are golden brown in color. Shake the skillet often, careful not to burn the seeds.
Add the honey, soy, red pepper flakes, salt, and pepper to a small bowl and whisk.
Add a splash of rice wine vinegar. Whisk again.
Place a damp towel under the bowl to secure the bowl while you pour and whisk. Drizzle the oil into the vinaigrette slowly as you continue to whisk to emulsify the dressing.
Cook the soba noodles per the package directions. Drain and rinse in cold water.
Heat a large skillet over medium heat for several minutes or until the skillet feels hot when you hover your hand over the surface.
While the skillet heats, pat the barramundi dry and season both sides with salt and pepper.
Add the canola oil to the skillet and swirl to coat the surface.
Place the barramundi in the skillet, careful not to crowd, or the fish will steam not sear. Work in batches if you're using a small skillet.
Sear the fish for three minutes on each side.
Mound the cooked soba noodles on a plate or in small bowls.
Arrange the barramundi on the soba noodles. Spoon the Honey Vinaigrette over the barramundi and noodles. Sprinkle the toasted sesame seeds and green onions over the top. Serve immediately with steamed broccoli, green beans or sugar snap peas.
---
Blue Crab Meat
Did you know there are over 4,000 crabs species, both fresh and salt water?
Crazy right? But we only eat a few dozen. Here's a short list of edible crabs: Jonah, peekytoe, red, snow, brown, spider, Dungeness, yellow, rock, stone, hairy and swimmer crabs to name a few.
If I had to choose, my top three crab picks are Chesapeake Bay Blue Crab, Florida Stone Crab, and Alaska Red King Crab, and not necessarily in that order. Not only do I love the sweet flavors and textures of these species, each of them is sustainable.
So what made me pick blue crab meat for this episode?
Because of all the commercial species, this is one of those species that is widely consumed, but not always sustainable. And I think it's important to talk about that.
So to clarify, I'm talking about blue crab meat found in the refrigerated section at the grocery. All blue crab meat comes from the Blue Swimmer crab. Mostly caught around the Pacific Rim, or at certain times of the year in the Chesapeake Bay and the East Coast of the US as far south as Florida.
Blue crab meat is sold either fresh or pasteurized. Fresh crab meat has a relatively short expiration date, say a day or two. Pasteurized crab meat has a refrigerated shelf life of up to one year unopened, but once opened, needs to be eaten in a day or two. Which should not be a problem at all crab lovers.
It's important to read the labels on the tubs, cans, and pouches.
You may need to shop around a bit for a sustainable product since the market is flush with crab meat from India, Indonesia, Philippines, Thailand, and Vietnam which are rated red on Seafood Watch recommendation list. And you know what a fan I am of that guide. The reason Seafood Watch rates these locations red is because of the fishing method which in this area is primarily bottom trawlers. More about that in a minute. The best, read most sustainable way to harvest crabs is with a crab pot, which is not really a pot, but rather a large square wire box.
So back to the bottom trawler.
A bottom trawler is a fishing net that is dragged along the ocean floor, scooping up everything in its path, seriously damaging a marine ecosystem and ocean floor. The nets are held open by trawl doors sometimes weighing up to five tons to give you some perspective. Worse, yes, there's more, up to 90 percent of the catch is bycatch, another good B word, also called discards, but I'll talk more about that in Episode 4, D is for Dogfish and Discards. Whether you call it bycatch or discards, it means the unintentional species that are caught in the bottom trawler, and then discarded, either dead or dying.
But also, crab from the Pacific Rim has a huge carbon footprint to get from the Pacific Rim to your plate. So there's all that to consider.
That said, my intentions are to make you aware. Not decide for you.
Now, when you do find sustainable crab meat, you'll have a few choices. Blue crab meat is sold as either jumbo lump, lump or backfin, special, and claw. Most likely you will see these three types in the US—jumbo, lump and claw.
So let me break that down. Jumbo lump meat is a premium product. It is the entire lump from the back of the crab. For each crab, there are only two whole jumbo lumps, so you can see why this would be the most expensive product on the market. Think thirty to forty plus dollars per pound.
When the pickers, the people who pick the meat from the crab, inadvertently break the jumbo meat apart, that product is called lump crab or backfin. So lump usually comes from the same part of the animal and the back and is less expensive than jumbo. Say around the twenty dollar range.
Claw is the least expensive and has a deeper, but sweet flavor than the lump meat. Claw meat is also is brownish-orange in color, compared to the pearly white color of the lump meat. Look for prices to be in the fifteen dollar range.
Once you select your crab meat, store it in the refrigerator until you are ready to eat it. Then once opened, eat immediately out of the container!
Quick & Easy Crab Cakes
Serves 4
Melt a tablespoon of butter over medium heat in a skillet.
Add a few tablespoons of minced celery and one teaspoon of shallots. Stir and cook for several minutes. Remove the veg from the heat to a medium bowl. Wipe out the skillet and let it cool away the burner.
Add one pound of Blue Crab Meat, a few tablespoons of mayonnaise, a few tablespoons of panko bread crumbs, a ½ teaspoon Dijon mustard, a dash of cayenne, kosher salt and ground black pepper to the celery and shallot. Grate a little lemon zest over the top and stir gently, careful not to break up the meat.
Form the crab mixture into patties equally. If you find the crab is falling apart, add a little more breadcrumbs and mayo. Cover and refrigerate for about twenty to thirty minutes.
Heat the same skillet or a flat griddle if you have one, over medium heat. Add a teaspoon of butter and oil and swirl to coat the surface letting the butter melt before you place the crab cakes in the skillet. Do not move the crab cakes and don't crowd them either leaving a little space between the cakes. Cook for three minutes. Reduce the heat to medium-low if you see the edges of the cakes browning too quickly.
Turn the crab cakes and continue cooking for an additional three to four minutes on the other side. You want a nice caramelized crust on both sides. If you turned the crab cakes too quickly, turn them back over to cook an additional minute.
Serve the crab cakes immediately with a lemon wedge and a fresh green salad.
That's it for this episode seafood lovers.
Now, it's time to send me your thoughts and questions. What would you like to know about your favorite seafood? Leave me a message or hit me up on Facebook or Twitter.
And I leave you with three things.
If you know someone who would like this podcast, please share!
And if you haven't already, please consider subscribing to #GreenFishBlueOceans podcast, and let's connect on Twitter, Instagram, and Facebook.
And lastly, if you'd like to support this podcast, you can buy my cookbook, Salmon From Market To Plate, when you want to eat salmon that is good for you and the oceans, available on my website maureencberry.com and Amazon.
In Episode 3, I'll tackle Clams and Climate Change.
Thanks for listening to Green Fish Blue Oceans and have a great two weeks!