About Maureen
I'm Maureen, host, writer, and producer of Green Fish Blue Oceans the podcast where stories about seafood are good for you and the oceans.
---
In January 2017, I launched Green Fish Blue Oceans to keep the sustainable seafood conversation going while I work on my second cookbook. *You can buy my first cookbook, Salmon From Market To Plate here.*
My goal with this podcast is to create a fun, learning experience. I've found that when people care about where their seafood comes from, they make better choices at the market. And I wanted to tackle some ocean challenges that I think are imperative to know about. I believe when you learn about how your choices will help protect and preserve our beautiful blue planet, it's easier to take action. I've also found that one person can indeed create change.
I spent a great deal of time—the entire calendar year of 2016—thinking about the structure and format of this podcast. And I listened to a lot of podcasts.
Here's what you can expect on Green Fish Blue Oceans.
Bi-monthly episodes under thirty minutes.
I tackle a seafood species, and/or an ocean-related challenge in an A-Z series.
In S2, I'm sharing the mic with Miami-based marine scientist Heather Tomasetti.
Listen to interviews with entrepreneurs, fishermen, and people who are making a difference.
Find me tweeting @gfbopodcast. And please subscribe so you don't miss an episode.
---
Beyond The Pod
In addition to writing sustainable seafood cookbooks, I spend a lot of time behind the lens of my Nikon D90, and consequently in Lightroom. Shoot me an email if you see a print that you must have.
I'm new-ish to YouTube where I share seafood recipe videos. If you're feeling generous, please subscribe to my channel. I need 1,000 subscribers so I can monetize my work. And I am not too proud to say I am nowhere near that number as of January 2018. So thanks for that.
When I'm not working, I like to play guitar. Learning an instrument makes me feel young. And there is something about having a beautifully crafted guitar in my lap, both hands working to create music that is deeply familiar and yet, new, that makes me want to play more. My go-to songs are Rod Stewart's Reason To Believe, John Lennon, Let It Be, and my latest on my new Fender, Joan Jett's I Love Rock n Roll.
You can find me on Instagram @maureenc.berry where I share photos of my life here in western Kentucky—including pics and videos of my fur-baby, a feisty wire fox terrier.
Lastly, thanks for stopping by. And remember, subscribe to the Green Fish Blue Oceans podcast so you don't miss an episode.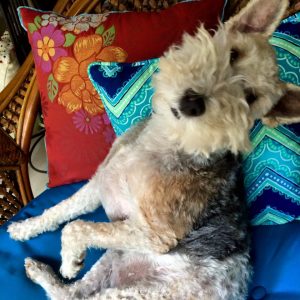 Do you have a question, an idea for a future episode, want to chat, or sponsor an episode? Email me, maureencberry @ gmail . com. I'd love to hear from you.

You can listen to #GreenFishBlueOceans on this site, or download on iTunes and Google Play.